Flag Materials & Construction
Choose the fabric that suits your particular location and weather conditions.
Materials
Our most popular flag for outdoor home use. Your best value.
Best material for retaining brilliant color.
Quick-drying.
Lightweight, and flies with the slightest breeze.
Durable and resists stretching.
Our toughest, strongest, longest-lasting flag.
Engineered for industrial, commercial, or institutional use.
Ideal where high winds or stressful conditions exist.
Traditional, best-looking material.
The material of choice for ceremonies or military honors.
Best for short-term outdoor display, or indoor use.
Perfect for special events.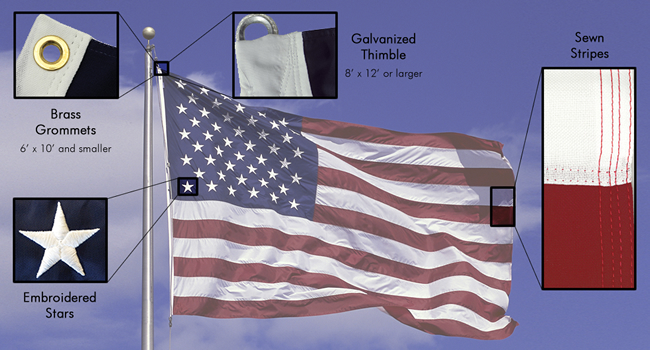 Zoom In
Construction
Stars
Embroidered stars (standard on most flags) are densely filled with high-gloss polished white thread for a rich finish.
Printed stars (on select styles) do not block the light shining through the fabric, meaning the stars appear bright no matter what angle of the sun.
Appliquéd stars for flags 12' x 18' and larger
Stripes
Sewn stripes (standard on most flags) are constructed with double-stitched seams for added quality. The red & white stripes are sewn together for a traditional look.
Printed stripes (on select styles) use a dyed fabric for an economical choice.
Edges
Outside edges (fly-end) are reinforced with 4 rows of lock stitching to resist tearing, insuring a longer-lasting flag.
Headings
Heavy white polyester canvas headings for stability
Full-sized brass grommets for durability.
6' x 10' and smaller: solid brass grommets
8' x 12' and larger: roped canvas headings with galvanized thimbles