Help
Where is your store located & what are the store hours?
Our store is located at:

John H. Geiger Operations Center
5745 Lee Rd.
Indianapolis, IN 46216

Store hours are Monday - Friday 8 a.m. - 4 p.m., excluding holidays.

Please use north entrance. Enter door marked "Sales Room."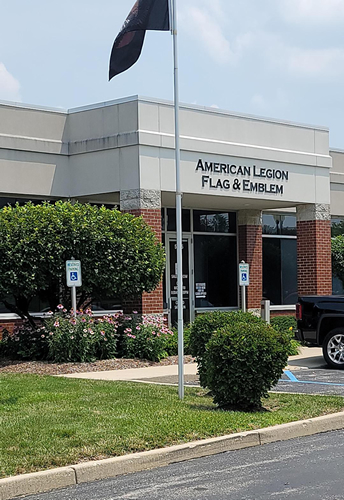 When will my credit card be charged?
Upon providing your credit card information, The American Legion will run a check of your credit card for the full balance of your order. However, your card will not be charged for any backordered items until those items are ready to be shipped to you. If at that time the credit card you provide today cannot be charged for the amount of the backordered items, we will need to receive an alternate form of payment before we can ship those items.
What types of payment do you accept?
For phone and web site orders, we accept Visa, MasterCard, Discover, & American Express. We also accept credit cards for mail orders.
To pay by check or money order, mail the order form PDF with your payment to:

American Legion Flags
P.O. Box 36460
Indianapolis, IN 46236
How can I order by phone or fax?
Phone
Call toll free (888) 453-4466 Monday - Friday 8:30 a.m. - 5:30 p.m. ET (5:30 a.m. - 2:30 p.m. PT.)
Fax
(317) 630-1381
Order form PDF
Can I use a tax exemption?
If your tax exemption has already been set up with our Finance Department, please make sure to log in before you check out in order for the exemption to work properly. If you get to the Payment screen of the checkout (step 2) and still see taxes, please email TaxExemptForms@legion.org or call (888) 453-4466.
Why do I need a password?
Creating an account with a password can save you time when placing future orders. You can save your billing address, save addresses in your address book, and access your order history from the last 12 months. Your credit card information is not saved or stored online.
You're also welcome to check out as a guest without using a password.
What should I know about merchandise?
We are constantly upgrading our merchandise in an effort to give you a better quality item and more value for your money. We will, on occasion, make reasonable substitutions of equal or greater value without notice. Merchandise shipped may vary slightly in appearance from catalog and web site images. In all cases, if the merchandise shipped to you is not satisfactory, please contact us immediately at (888) 453-4466 or emblem@legion.org.
What do I need to know about packaging & shipping?
Packaging & shipping are non-refundable and charged per single shipping address. Charges are based on the total value of your order:
| Order Cost | Packaging & Shipping Cost |
| --- | --- |
| Up to $5.00 | $3.95 |
| $5.01 - $10.00 | $4.95 |
| $10.01 - $20.00 | $6.95 |
| $20.01 - $30.00 | $7.95 |
| $30.01 -$50.00 | $8.95 |
| $50.01 - $100.00 | $10.95 |
| $100.01 - $200.00 | $15.95 |
| $200.01- $300.00 | $29.95 |
| $300.01 - $400.00 | $34.95 |
| $400.01 - $500.00 | $39.95 |
| $500.01 & over | $69.95 |
After your order is processed, in-stock items are normally shipped within 14 business days (Monday-Friday, except holidays.)
Back-ordered and extended-delivery products are shipped when they are available. Additional charges may apply for over-sized items.
Most packages are shipped by UPS Ground. On occasion, we ship lighter-weight packages by USPS.
Express Shipping
In-stock products only can be shipped sooner on business days (Monday-Friday only, except for holidays) for an additional fee. Choose from:
Next Day - $70 extra
Second Day - $30 extra
Third Day - $20 extra
Express shipping is not available outside the U.S. 48 contiguous states. Back-ordered and extended-delivery products are shipped when they are available so express shipping does not apply to these items. Additional charges may apply for over-sized items.
Can I check the status of my order online?
As long as you placed the order while logged into your account, you can check the status of any order from the last 12 months on the web site:
Click/tap any order number to see more information.
We'll send an email confirmation when your order ships.
To check the status of a guest checkout order, please email emblem@legion.org or call (888) 453-4466.
If you're expecting an email from us, please add emblem@legion.org to your Contacts and Safe Senders list. Gmail users may find order-related emails under the Promotions tab.
What if the shipment I receive is damaged?
Please examine your merchandise immediately upon receipt. If your shipment has been damaged, please either:
We will give you instructions for how to proceed.
Is my purchase guaranteed?
If for any reason you are not completely satisfied with your purchase, please either:
All claims of any nature must be made within 90 days of the invoice date or shipment, whichever is later.
What is your returns & exchanges policy?
We will gladly provide an exchange or refund your purchase price (excluding discounts, and any shipping & handling charges) for items returned in their original condition within 90 days after you receive them. To return or exchange an item, please complete & submit this form. We will respond with an RMA (Return Merchandise Authorization) number and instructions for returning the item to us. Please do not return an item without an RMA number.
You're also welcome to contact us at (888) 453-4466 or emblem@legion.org.
Are the prices and products on this web site the same as those in the catalog?
Yes, both the prices and products on the web site are the same as those in the current year's catalog. Keep in mind that new products are added to the site throughout the year as soon as they are available but are not included in print until the next year's catalog is available.